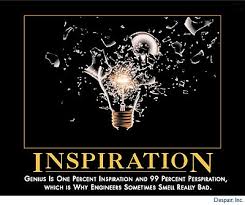 I have been busy traveling the past few days; I spent time meeting with a head of an independent school about academic matters, as well as conducting a history seminar. I will spend tonight updating my syllabus, my CV, and completing some reading for classes tomorrow; I am not set to return to Houston until late tonight — though my flight times continue to change due to snow and ice. My meeting with a head of school went well as did my history seminar. I always feel smarter when I get to attend meetings with other great academic types.
I recently learned that my blog won an inspiration award from bald blogger. I will list my blogging awards later, but here is what bald blogger had to say:
The Professor (formerly The Proletarian). This is the blog of my teaching colleague and good friend Edward Carson. I met Eddie two years ago and with our mutual interests we became fast friends. The Professor's blog is a gold mine of teaching reflections, political analysis, and all around solid commentary. I should add that Eddie's a fantastic teacher and lecturer. He's also marathon runner. And I'm thrilled that we are currently working on a book together. We will unveil the details of this project at a later date.
* BTW — my flight did not arrive until 3 am.