With the exception of Richard Hofstadter's The American Political Tradition, I have elected to add three new books to next year's Advanced Placement United States History course; I am a big fan of Howard Zinn and his writings. Some believe his historical approach is a bit biased, but I contend what work is not. Because I like my classes to operate in a seminar hence "Harkness" fashion,  outside textbook readings along with primary source readings are essential to provide students with a general historical take before we engage in topical conversations. All of the works below challenge students to think about the processes of American history from a different perspective. The only exception is the general textbook: The Unfinished Nation by Alan Brinkley, which takes a more "traditional" approach to US history. Below are the covers for the works I submitted to my department chair.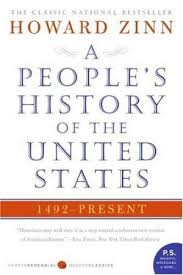 In Hofstadter's The American Political Tradition, he as well as Howard Zinn bring a more revisionist and realist account of America's historical figures. Zinn presents history from the perspective of non elites: blacks, women, immigrants, workers, and the poor. Moreover, Hofstadter looked to end the romantic notions often used to describe the traditional white male hero of American culture (or WASP). Here is an example from his chapter on the founding fathers:
Democratic ideas are most likely to take root among discontented and oppressed classes, rising middle classes, or perhaps some sections of an old, alienated, and partially disinherited aristocracy, but they do not appeal to a privileged class that is still amplifying its privileges. With a half dozen exceptions at most, the men who had considerable position and wealth, and as a group they had advanced well beyond their fathers.
One of the things Hofstadter writes about in his many works is that of economic elitism. He described the framers as men who created an oligarchy via the Constitution only as an instrument to protect their wealth and status; he questions the democratic nature of the founders and the Constitution. Moreover, he discusses history as an entity protected by the very men who used it to enhance their status. Here, as also noted by Sociologists James Loewen, Hofstadter is critical about the intent for which elites built this (United States) country upon; he works to do what most textbooks and movies fail to do, eliminate historical heroification of dead white men.
In Lies My Teacher Told Me, Loewen attacks the teaching of high school history. When students sign up to take this course with me, I tell them to read this book. I assure students that I am not perfect nor are my courses, but I do not teach a typical monolithic high school history course either. Loewen explains in his introductory:
High school students hate history. When they list their favorite subjects, history always comes in last. They consider it "the most irrelevant" of 21 school subjects, not applicable to life today. "Borr-r-ring" is the adjective they apply to it. When they can, they avoid it, even though most students get higher grades in history than in math, science, or English. Even when they are forced to take history, they repress it, so every year or two another study decries what our 17-year-olds don't know.

African American, Native American, and Latino students view history with a special dislike. They also learn it especially poorly. Students of color do only slightly worse than white students in mathematics. Pardoning my grammar, they do more worse in English and most worse in history. Something intriguing is going on here: surely history is not more difficult than trigonometry or Faulkner. I will argue later that high school history so alienates people of color that doing badly may be a sign of mental health! Students don't know they're alienated, only that they "don't like social studies" or "aren't any good at history." In college, most students of color give history departments a wide berth.

Many history teachers perceive the low morale in their classrooms. If they have lots of time, light family responsibilities, some resources, and a flexible principal, some teachers respond by abandoning the overstuffed textbooks and reinventing their American history courses. All too many teachers grow disheartened and settle for less. At least dimly aware that their students are not requiting their own love of history, they withdraw some of their energy from their courses. Gradually they settle for just staying ahead of their students in the books, teaching what will be on the test, and going through the motions.
I have worked to introduce my students to various dimensions and perspectives of history; I do believe to some extent that they (students) appreciate the differences; however, I too realize that my courses are a work in progress. Thus the joy of being a passionate teacher is growth. As a teacher, I work to be a student as well; I love writing and reading new works that account for the vast amount of literature in the field. I see myself as both a teacher and doer of history: taking on projects that allow me to be a part of the historical process. This of course is what I like to utilize in my teachings. But a number of high school teachers have been under attack for poor teaching: emphasizing rote facts and glory tales that fall short of the complex conceptualization of historical analysis. I have spent the past 9 years of teaching trying not to be that teacher, though there are a few that prefer I teach "basic American history." This is the history of the sage — or the manager of industry. I prefer the idealism of  Dead Poets Society's Mr. Keeting, who addresses the realism and dangers of traditionalism.
In his continual attack of high school history teachers, Loewen contends:
College teachers in most disciplines are happy when their students have had more rather than less exposure to the subject before they reach college. Not in history. History professors in college routinely put down high school history courses. A colleague of mine calls his survey of American history "Iconoclasm I and II," because he sees his job as disabusing his charges of what they learned in high school. In no other field does this happen. Mathematics professors, for instance, know that non-Euclidean geometry is rarely taught in high school, but they don't assume that Euclidean geometry was mistaught. English literature courses don't presume that "Romeo and Juliet" was misunderstood in high school. Indeed, a later chapter will show that history is the only field in which the more courses students take, the stupider they become.
A former colleague of mine once stated: "too many high school instructors try to teach like their college instructors." She went on to say that "by doing so is an injustice because many college teachers have also given in to the simple art of looking at history." Hence, they operate as industrial managers thus fear too much change. They stay away from academic meetings and even fear junior colleagues because they threaten the "status" of what exists: a traditional uninventive look at the dynamics of historical analysis; it is their job to reject such junior faculty members as they reach the final stage of tenure review. If high school teachers trained under such monolithic and unchanging individuals, then the great danger is that of  cyclical history teaching: one that minorities will hate because it is the same old drill. Not only will blacks and other groups hate this, but so will whites of a younger generation.
It is my job to avoid the above contention by offering students a history course from the perspective of an urban black kid who grew up with fewer privileges than they. I believe my students are lucky, and I hope they realize it; I know I am lucky to have them. In this brief reflection, I also believe the key is being in a great department. Being around people that know more makes teaching easier.